Installation of multi-images
In 2010, through observing our spaces as a reflection of self, and perceiving materiality as a significant part of personality and desire, I worked on the series, Public Conversations.  In this work I photographed foreign workers in Singapore who have turned common public spaces such as sidewalks and garden benches into their private spaces, due to the lack of personal space in their rented flats.
Home ownership, and the huge influx of foreign workers, have become major concerns in Singapore. Touching on the very fragile relationships between foreigners and locals, it explores how use of our shared spaces, reflect upon everyday negotiations and tensions. These issues have led to my latest project, 地平线梦中 (Resting on the Horizon), which explores the delicate balance between tolerance and expression in foreign workers in Singapore.
In this work I have requested that a Chinese migrant worker, Ah Zhen, perform an action at a beach in Singapore. He was asked to attempt a rather absurd task: to find sleep on the horizon. His posture reveals a tattoo on his arm, which says 忍 (Tolerance). Ah Zhen had the tattoo made in Singapore. He has only one tattoo, and this will be his last.
He will return to China in one or two years. During this time he has spent away from home, he left instructions for his family back home to build his house. He has designed the entire house from scratch. The exterior and interior snapshots of Ah Zhen's home were photographed by his wife back in China, mailed to him, and finally, re-photographed by me.
This work explores the precarious status, as well as the aspirations and dreams of migrant workers in Singapore, while challenging our perceptions of "the other" in our society.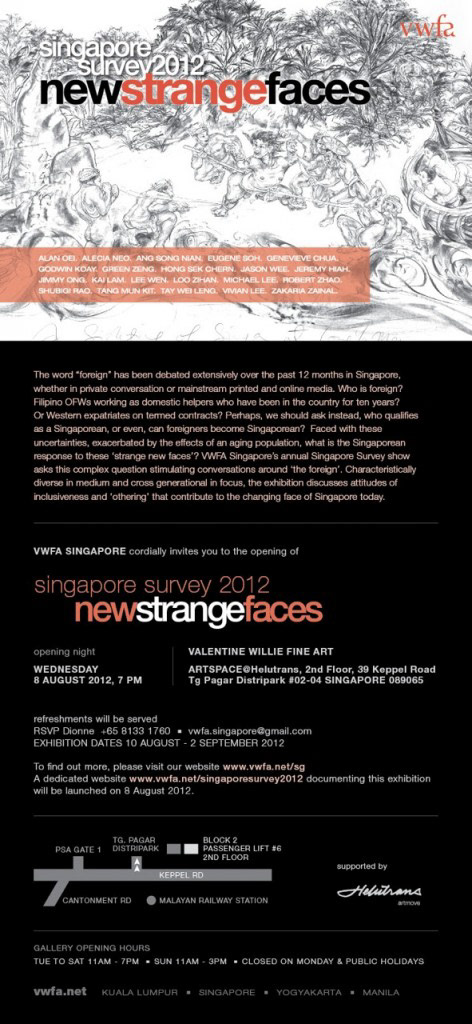 NEW STRANGE FACES curated by Valentine Willie
 10 August – 2 September 2012
Venue:
Valentine Willie Fine Art, Singapore
ARTSPACE@Helutrans
39 Keppel Road
Tanjong Pagar Distripark,
#02-04, Singapore 089065​​​​​​​
Alan Oei, Alecia Neo, Ang Song Nian, Eugene Soh, Genevieve Chua, Godwin Koay, Green Zeng, Hong Sek Chern, Jason Wee, Jeremy Hiah, Jimmy Ong, Kai Lam, Lee Wen, Loo Zihan, Michael Lee, Shubigi Rao, Tang Mun Kit, Vivian Lee, Wei Leng Tay, Zakaria Zainal, and Zhao Renhui 
 The word "foreign" has in the past 12 months become the most used and abused word by Singaporeans, whether in private conversation or mainstream printed and online media. Who are the foreigners? Filipino OFWs working as domestic helpers who have been in the country for ten years? Or Western expatriates sitting in corporate offices on three-year contracts? Perhaps, we should ask instead, who qualifies as a Singaporean, or even, can foreigners become Singaporean?
Urging Singaporeans to accept immigrants, even as he acknowledged, "many Singaporeans are not comfortable seeing so many new strange faces", Lee Kuan Yew, speaking at a Lunar New Year celebration this year said Singapore's biggest challenge is its aging population in the face of falling birth rates. Continuing, he says, "Less young people means less sales of new cars, new stereos, new computers, new I-phones, I-pads, new clothes and fine dining. It's a choice Singapore cannot afford to make. Like it or not, unless we have more babies, we need to accept immigrants."
In this climate of uncertainty, what is the Singaporean response to these 'new strange faces'? VWFA Singapore's annual Singapore Survey show asks this complex question aiming to stimulate conversations around 'the foreign'. How do attitudes of inclusiveness versus that of 'othering' effect the changing face of the country?
Currently in its fourth year, the Singapore Survey serves as a ground to expose and promote the works of Singaporean artists. Conceptualized by Mr Valentine Willie, the exhibition explores the different facets of the country's identity through the coincidence of diverse themes and patriotic ideals. The aggravation of these necessary conversations regarding the past, present and future of this small island, allow audiences to question their own views on the history and development of the nation.
​​​​​​​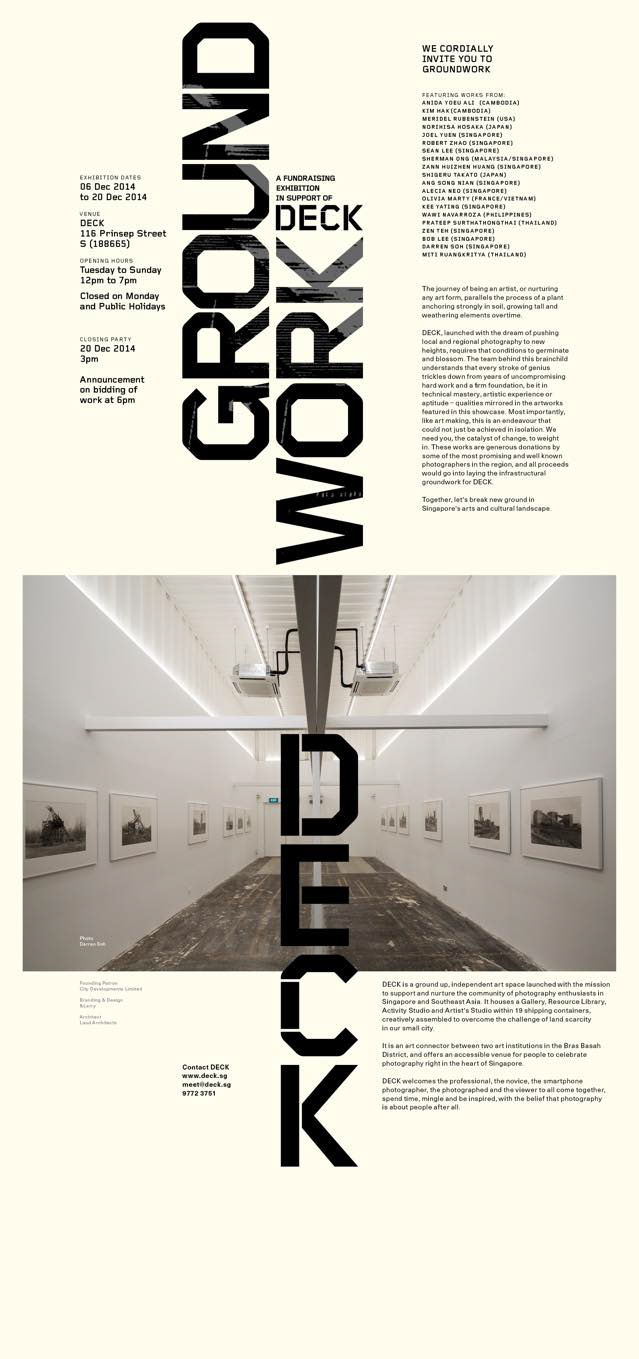 Exhibition Dates: 6 – 20 December 2014
Artists: Joel Yuen, Shigeru Takato, Sherman Ong, Robert Zhao Renhui, Meridel Rubenstein, Norihisa Hosaka, Kim Hak, Zann Huang Huizhen, Anida Yoeu Ali, Sean Lee, Ang Song Nian, Miti Ruangkritya, Alecia Neo, Kee Yating, Oliva Marty, Prateep Suthathongthai, Bob Lee, Darren Soh, Wawi Navarroza, Zen Teh​​​​​​​
DECK, launched with the dream of pushing local and regional photography to new heights, requires that conditions to germinate and blossom. The team behind this brainchild understands that every stroke of genius trickles down from years of uncompromising hard work and a firm foundation, be it in technical mastery, artistic experience or aptitude – qualities mirrored in the artworks featured in this showcase. Most importantly, like art making, this is an endeavour that could not just be achieved in isolation. We need you, the catalyst of change, to weight in.